Here you'll learn all about me: my interests and hobbies, the people in my family, and more. I've even included a list of my favorite links to other sites.
This is my homepage construct at January 14, 2005
On this home page, I'll introduce myself and talk about my reasons for wanting a web site. I might put a picture of myself on this page...or just a picture that I especially like.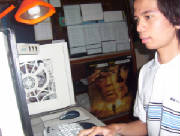 What's New?
Here I might add an entry whenever I make an update to my web site. Where appropriate, I'll include a link to the change. There are:

14/1/05 - Deleted file for Sistem Operasi Lecture duties in Download Zone
20/2/05 - Added photos about Studi Ekskursi 2005 in Photo Session Page
20/2/05 - Added my diary about Studi Ekskursi 2005 in Diary & Agenda Page
21/2/05 - Change my Agenda & Lecture Time Table for this semester
25/4/05 - Upload all about Computers Networking Lecture Files by Kelompok 5